Summer Trout Fishing on the Upper Delaware River
It's been an excellent water year so far and that's resulted in some very good fishing on the Upper Delaware. The Main Stem trout fishing has been holding up nicely and the West Branch has excellent cold water flows providing excellent all day fishing opportunities too.

Sulfurs, Olives, Slate Drakes (as many Delaware fly fishers call, Isos), and Cahills have been on the trout's menu offering some wonderful late evening fishing. This has prompted us to offer a new float trip package for as long as these conditions hold together.




This Summer, join us for a

Magic Hour

evening float trip where you can try your hand on twilight fishing for the Delaware's famed wild rainbow trout. This 3 to 4 hour float trip begins with meeting us around 6:00 PM and fishing until dark from the safety and comfort of a drift boat. Catch the excitement of evening spinner falls for just $250 for one or two anglers.




Our Full Day guided trip for up to 2 people is still available for $425. A five hour Half Day's trip is $325.


Smallmouth Bass Fishing on the Upper Delaware River
Field & Stream Magazine names the Upper Delaware as one of the top five smallmouth bass Rivers in the US - July 2007
The number one reason you should fish for smallmouth bass with us is because it's just downright fun! Perfect for the novice or expert.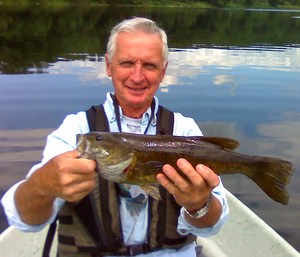 On spin tackle or on a fly rod the smallmouth is inch for inch and pound for pound, the sportiest fish in freshwater. As soon as they're hooked a smallmouth lets off with an exciting series of runs and jumps, fighting against the rod and giving the impression that it's a far bigger fish than it is.
Our Full Day guided Smallmouth trips are for up to 2 people, 8+ hours, snacks, soft drinks, and lunch included.

Call us today and get in on the fun!

914-475-6779 or 607-241-7000