Cross Current Guide Service & Outfitters
Capt. Joe Demalderis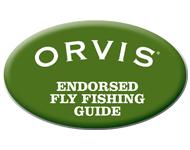 2010 Orvis Endorsed Fly Fishing Guide of the Year
Season's Greetings and Happy New Year! Winter is here, the time for planning the year ahead. There's also fishing to be had from the tropics to rugged winter steelheading and I hope someplace you're able to get some casts in. On the warmer days I still fly fish for northern pike (see below). If you feel hardy enough give me a call. We can do a full or half day at special winter rates. In just a few months spring will be here and with it the first dry flies of the year with hungry trout hot on their heels. That spells the Upper Delaware River System.
The Upper Delaware
"the finest staff of professional fly fishing guides on the Upper Delaware River" Paul Weamer, author the Fly Fishing Guide to the Delaware river
The Upper Delaware is the finest wild trout fishery in the eastern US. I guide on the Upper Delaware from mid April through October. This past season we had some of the best consistent fishing I've seen in years. 2014 should be another excellent season. Reservoirs are already above average capacity and snowfall has been better than its been in a long time. If you'd like to book a day on the river this spring please get in touch with me soon. Every year the spring fills up quicker and quicker. Sometimes I wish May were sixty days long! I have an excellent guide staff working on the river who I'm more than happy to arrange a day with too.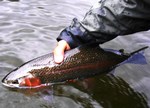 Water flows were excellent thanks to the hard work of
Friends of the Upper Delaware River
. There was one real heat wave that threatened to heat the river and place the trout in jeopardy, but quick action by Friends of the Upper Delaware River (FUDR) convinced policy makers that a cold water release was needed. The
Friends of the Upper Delaware River
are working on river access, spawning habitat restoration, water flow and thermal issues, and working with and educating the potpourri of government agencies that have a hand in the water management of this river. The current water management plan expires this spring. FUDR is the lead organization working toward implementing a more equitable plan for the future. They can really use your support with a membership contribution. Please join
Friends of the Upper Delaware River
Bonefishing, Bare Bones Style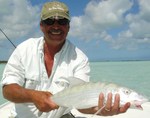 My 2014 season starts in March with bonefishing in the Bahamas. This is the sixth time we'll be at Mangrove Cay, one of the islands that make up Andros. We have a house we rent with nice clean air conditioned rooms, we hire a wonderful cook and housekeeper and are guided daily by the top guides in the area and good guys to spend time on the water with. The dates are 3/5-11, 3/12-18, 3/19-25, 3/26-4/1. All meals, five days fishing, six nights lodging and guides: $2,500 per person based on double occupancy and two anglers to a flats skiff/guide. Drop me a note or call if you'd like to go or want more information. This books fast and due to logistics we need confirmation by early January.
Northern Pike
I've added some other fish to the aquarium this year. In early April, for the cabin fever gang, I've added fly fishing for northern pike. Depending on conditions we'll either be fishing a lake or a river. There are pike up to 20 lbs lurking about, but realistically you're hitting fish in the six to ten pound range. A good fun day on an early spring day when playing hooky feels the sweetest!
Carp on the Fly!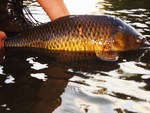 Another recent addition is fly fishing for carp. This is mostly a wade fishing game in some surprisingly pretty rivers and streams. Fly fishing for carp is one of the fastest growing segments in the fly fishing world. It's a sight fishing game, perfect for fly fishing. Carp pull real hard and routinely tip the scales at seven to ten pounds. Carp fishing is best from late June to mid October.
Smallmouth Bass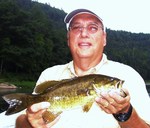 Then there's smallmouth bass on the middle section of the Upper Delaware. In July 2007, Field & Stream Magazine named this section of the Upper Delaware as one of the top five smallmouth bass rivers in the US. Great fun on the fly or light spin gear. This is best from early July through October. I
nch for inch and pound for pound, the sportiest fish in freshwater
.
Fall Bonefishing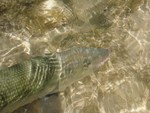 November, 2014 we're back bonefishing. Mid November is an excellent time to fish the flats and also a great way to ease into winter! This is the same as the March bonefishing trip but we're there for only two weeks getting back well before Thanksgiving.

Patagonia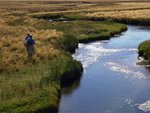 Winter 2015 is back to Patagonia. You'll be fishing in one of the last great frontiers of trout fishing. Let me know if you'd like to be a part of this trip. It's spectacular! If trout fishing's your favorite fly fishing, at least once in your life you have to fish Patagonia. We also offer booking on an individual basis for those who wish to travel on their own schedule. Patagonia fishing trips can be tied into wine country tours in Mendoza, Argentina or any selection of ecotourism destinations in Chile or Argentina. Just let us know what your thinking and we can help you make it real.
Drop me an email,
crosscurrent@optonline.net
or call me, 914-475-6779 and let's go fishing!
All the best,
Joe
---
---