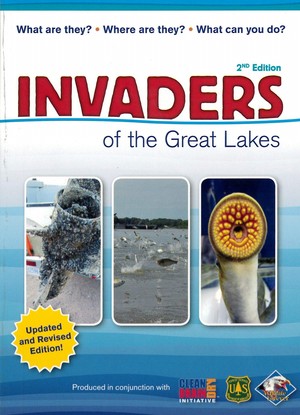 The Clean Drain Dry Initiative (CD2), in partnership with the U.S. Forest Service, U.S. Fish and Wildlife Service, National Professional Anglers Association and the Great Lakes Commission, printed over 10,000 copies for distribution throughout the Great Lake states. Since 2013, 57,000 copies have been printed and distributed through Wildlife Forever's national partnership network.
White Bear Lake, MN - Wildlife Forever is proud to release the second edition of
Invaders of the Great Lakes
. The highly popular field guide booklet has been a powerful tool to help identify invasive species and prevent their spread. This
edition features new species such as Starry Stonewort and European Buckthorn, both highly destructive to fish and wildlife habitat.
"New species continue to invade and threaten our nation's resources. We felt it was critical to highlight these new invaders to help educate and inform recreational users of the need for Clean Drain Dry prevention," said Pat Conzemius, Conservation Director for Wildlife Forever.
Targeting anglers, boaters and hunters to prevent invasive species remains the most cost-effective means for slowing the spread. Resources such as the
Invader
book and CD2's comprehensive media and marketing approach, are fundamental to implementing on-the-ground behavior change. Unfortunately, funding cuts to educational programs like the CD2 threatens to erase nearly a decade of educational efforts and progress made through the Great Lakes Restoration Initiative. Concerned sportsment and women are encouraged to contact
their
natural resource agency and managers to voice support of invasive species conservation education.
The
Clean Drain Dry Initiative™
is the national campaign to educate outdoor recreational users on how to prevent the spread of invasive species. Coordinated messaging drives best management practices content, marketing communications and tools on how to prevent. To learn about services available and how you can participate, contact Pat Conzemius,
PConzemius@WildlifeForever.org
or visit
www.CleanDrainDry.org
.
Wildlife Forever (WF):
Wildlife Forever's mission is to conserve America's wildlife heritage through conservation education, preservation of habitat and management of fish and wildlife. For 30 years, WF members have helped to conduct thousands of fish, game and habitat conservation projects across the country. Recent audit results reveal a 94% to mission rating. To join and learn more about the award-winning programs, including work to engage America's youth, visit
www.WildlifeForever.org
.